Whether you're a beginner picking up your first longboard or an experienced rider building your quiver, a longboard for cruising and carving is a surefire way to turn your neighborhood into your personal playground.
But how do you know what longboard is the right one for all your cruising and carving needs? It's all about personal preference: What do you want in your ride, and where are you planning to ride? To help you figure it all out, we're breaking down our best carving longboards based on overall ride, stance, and design.
Going head to head in this longboard cruise-off: Derringer vs. Pintail.
Best Longboard for Overall Cruising + Carving
When the Derringer and Pintail go head-to-head in overall cruising + carving, the main difference in your ride comes from the way the board turns and where you want to ride it.
Derringer Overall Ride: This board is for tight turns. You'll have no problem slaloming through cones, weaving around pinecones on the sidewalk, or people dodging on the pier. Thanks to a short wheelbase, the Derringer lets you pump indefinitely on your afternoon cruise.
Pintail Overall Ride: Take wide, flowing runs down the street or snap into a sharp, deep carve around a corner. The Pintail is for surfing the whole concrete wave and shaving off mellow hill speed. Thanks to a wider platform paired with Original S-series carving trucks, the Pintails are equipped to handle low to medium speeds.
Final Matchup: If you're looking for tight turns and neighborhood pumping, the Derringer is your quiver killer. If you're looking for wide flowing runs down the street and on a mellow hill, the Pintail is your go-to.
Shop the Derringer 28,
Derringer 33,
or Pintail line of longboards →
Best Cruising + Carving Longboard Length + Stance:
The standing platform of a board can be its secret sauce in terms of stability on mellow hills vs. just enough room to adjust your feet and turn on a dime.
Derringer Length + Stance: Ride comfortably with your feet over the bolts on the Derringer. Due to the smaller standing platform, the Derringer series requires a slightly tighter stance than the Pintail Series.
Pintail Length + Stance: Riding a Pintail is like stretching out your legs in first class. The Pintail's wide standing platform is the secret to its stability while sliding. Ride in a low stance and watch your deep carves transition into speed checks. Feel comfortable and adjust your stance for rough terrain or to practice those board walking skills.
Final Matchup: If you're looking for a shorter board with a wide wheelbase, the tip-to-tip standing platform of the classic Derringer 28 cruiser longboard will get the job done. Want some tail too? The Derringer 33 will leave you chasing tail no more. If you're looking for a larger standing platform for moving those legs and busting a move, the Pintails will give you just that: the freedom to groove about.
Best Cruising + Carving Longboard Flex + Design:
The flex and concave of a board are all about personal preference. If you're looking to add a little spring to your step when board dancing, cruise down a mellow hill, or pump down the line, the best way to get where you want to go is by considering how the flex and design accomodate your ride style.
Derringer Design: The Derringer is all about camber to give you the flex and pop you want to turn on a dime. On the Derringer 33, the narrow tail pushes board flex to the area immediately under your back foot, just in front of the back mounting brackets. Advanced carvers / surfers may ride in an even tighter stance by bringing their back foot to the center of the board and placing their front foot on the nose. This allows the Derringer to flex behind their back foot and generate even more power out of every pump.
Pintail Design: The casual flex of the Pintails allow riders standing in any stance the experience of a comfortable flex ideal for carving—enough to put some spring in your step while dancing and absorbing some of the pressure on your feet and knees from pushing. The mellow concave makes for a wide standing platform that provides more stability. Riders who want to bust out speed checks and slides won't be bounced off their board as their heels dig deep into their carves.
Final Matchup: If you're looking for a flex to get you into your carve, the Derringer's camber will win you over. While the mellow concave of the Pintail series makes the Pintails a more suitable choice for overall stability, but also on larger hills, while still ripping deep turns around the block.
While we're in this head to head, there's always the icing on the cake:
Board Art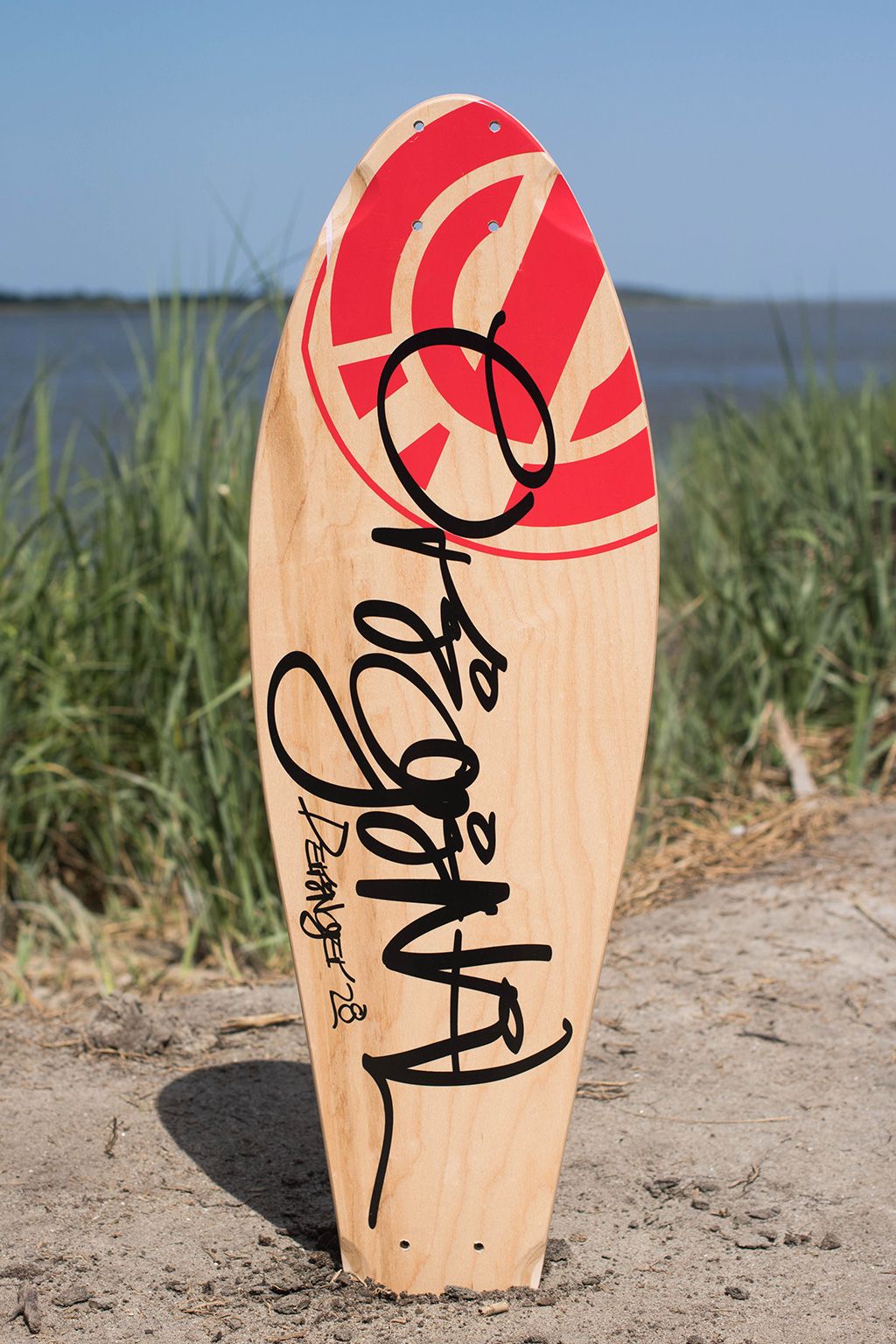 The wood finish Original logo on the Maple Derringer 28 comes in blue, purple, red, and orange. While the new Derringer 33, lets you express yourself with 3 detailed board graphics: Resurfaced, The Hangover, and The Flying Dutchman.

The Pintail Series also offers up a plethora of art choices: The Maple Pintail offers our classic surfing graphics, while the flexier Bamboo Pintails rock different clean-cut Original logos.
Whether you're looking to turn any sized slope into a winding hill bomb, weave left and right without leaving your lane—in this case choose the Derringer, or slash into slides with ease so you can rip down hills at a comfortable pace—the Pintail is the name of your game for the latter, we've got a longboard that is sure to fit your cruising and carving needs.
Shop the Derringer 28,
Derringer 33,
or Pintail line of longboards →
Looking to see both boards in one video? Watch Original team riders test the Pintail Series on the winding slopes of Ecola State Park and rip small hills on the Derringer 33.
Click here for full video + a behind the scenes look at our longboard roadtrip with the Derringer, Pintail, and more→
Still unsure? We're here to help. Click the resources below or hit up our rider chat in the right hand corner. We're here to get you off the internet and into cruising and carving paradise ASAP.
Just like you wouldn't buy clothes that are too big or too small, the same applies to your ride size. We want you to be comfy, cozy. The main factors to consider are: weight, height, and ride style.
Click here for a full Pintail buyers guide →
Wondering "What Are Pintails Good For?" Click here for a buyers guide to Pintail Ride Styles →