With all-around carving, sliding, freestyle, and cruising in mind, the Apex 40 DoubleConcave longboard skateboard blends topmount carving quickness with micro drop stability and finesse, while its construction and optional noseguards deliver unmatched durability vs. tricks and freestyle.
That Apex Construction You Love.
For riders looking to step-up to their second longboard or beginners looking for the easy slide and turn initiation required to get started out right, the Apex 40 DoubleConcave longboard skateboard delivers the amazing sliding / carving / cruising performance and maneuverability the Apex series is famous for.
Apex 40 DC Stats
The Devil is in the details. Here's how the Apex 40 DoubleConcave stacks up.
Length: 40.75 in x Width: 9.75in
Wheelbase: 28in
Concave Depth @10.25in:(.66in)
Concave Shape: Micro-Drop Tub
Drop Depth: 0.25 inches
Rocker Depth: Zero Rocker
Effect Platform: 26.5" x 9.25in
Gas Pedals: 40 Degree, Micro
Contruction: 3 Ply Maple + Quad-Axial Fiberglass + Carbon
Kick Specs: 5.0in wide x 4.5in long x 1.1in tall
Kick Ratio: (4.5 x2) 9 / 31.75 = 28.3%
Wedge or DeWedge Front / Back:0 / 0
Ready For How You Want to Ride.
Our goal for the Apex 40 DoubleConcave longboard skateboard is to add stability and high speed control without hampering the flatland and small hill carving capabilities the Apex was already known for.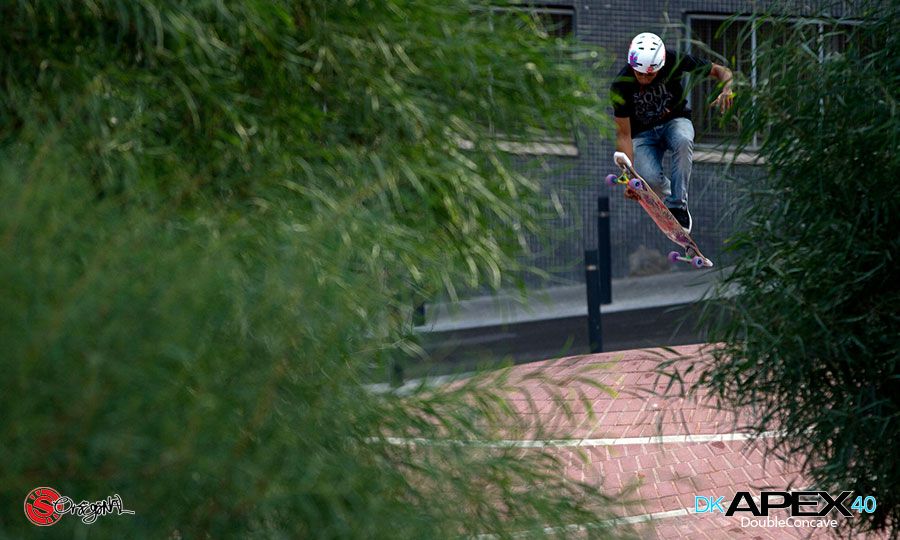 To that end, we revised our original deeper-drop concept to a more mellow 0.25 inches in order to allow more use of the drop zone as a part of the stance platform. Wider platform means a bigger landing zone, more stance options, and the ability to get further over your trucks which improves stability.
Fast for Freeride. Agile for Freestyle.
While the Apex 40 DoubleConcave is the first Original to utilize a drop-deck design (micro or otherwise), it most certainly has not been the last. The team loved the versatility the micro-drop added to the board, and (thanks to the kicks, and noseguards) the Apex 40 DoubleConcave is currently one of our favorite do-it-all longboard solutions.
In addition to keeping you locked-in tight the Apex 40 DoubleConcave's rails arch away from your wheels working with the narrow neck to give your more quickness and carving capacity at the lower end of the speed spectrum.